Toji no Miko: Kizamishi Issen no Tomoshibi
Mechanics
Basic Information • Combat • Support Members • Secret Techniques • Attributes • Equipment • Competitive Battle (PVP)
Quests
Main Quests • Character Quests • Raid Quests (Great Aradama Suppression Battles) • Special Quests • Event Quests
Content
List of Events • Cosmetics • Member List • Equipment List
Main Menu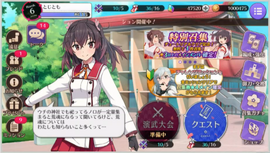 Rank - The level of a player. Performing certain tasks can give experience points, and obtaining a certain amount of experience points can raise a player's rank by 1.
Resources
Gold - The basic game currency.
Stamina - A resource that is consumed when using certain combat features like quests. Players start at 10 maximum Stamina, and each level increases maximum Stamina by 1. Stamina regenerates over time.
Rainbow Tamahagane or Gems - The game's premium currency, obtainable by completing main quests or purchasing them using money. Certain content, like cards in Gacha, can only be obtained by using Gems.
Feature Menu
Chat (トーク)
Expedition (遠征)
Friends (フレンド)
Information (お知らせ)
Gifts (プレゼント)
Missions (ミッシオン)
Organization/Strengthening (編成・強化) - Opens the menu for organizing parties, viewing individual units, and changing unit appearances using costumes.
Okatana/Exchange (御刀・交換)
Recruiting Gacha (召集ガチャ) - Opens the menu for using the Recruiting Gacha system.
Shop (ショップ)
Tournament (演武大会)
Quests (クエスト)
Any active events
Organization/Strengthening Menu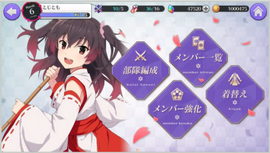 Unit Stats
Card name
Level
Base-Up Indicator
Combat Power (戦闘力) - A numerical representation of the total values of a unit's stats.
Type (タイプ) - Denotes the classification of a certain unit.
HP (生命) - The amount of maximum hit points of a member.
Attack (攻勢) - Increases the amount of damage dealt against enemy units.
Defense (守勢) - Lowers the amount of damage received from enemy attacks and skills.
Endurance (身体)
Spirit (精神)
Agility (敏速) - Affects how quickly a member performs an attack.
Concentration (集中)
Evasion (回避) - Increases the likelihood of avoiding an enemy attack.
Critical (致命) - Affects the chance to deal critical damage to a target.
Drain (吸収)
Party Organization (部隊編成)
Main Units can be assigned on the Frontline (前列) or Backline (後列), and one member must be designated as a Party Leader. A Unit uses an additional ability called the Party Leader Skill if it is designated as a Party Leader. Units may have additional boosts to their stats based on whether they are placed on Frontline or Backline.
Mihono's Party Leader Skill is Essence of Ougi: Purify (奥義の真髄・清), which boosts the damage of Slicing-Attribute Ougi by 20%.
Kaoru's Party Leader Skill is Essence of Ougi: Tune (奥義の真髄・調), which boosts the damage of Breaking-Attribute Ougi by 14%.
Kanami's Party Leader Skill is Life-Saving Sword: Purify (活人剣・清), which boosts the Evasion of Slicing-Attribute friendly units by 22%.
Member List (メンバー一覧)
Member Strengthening (メンバー強化)
Costumes (着替え)
Quest Menu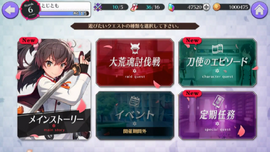 Main Story (メインストーリー)
Character Quest (刀使のエピソード)
Raid Quest (大荒魂討伐戦)
Special Quest (定期任務)
Event Quest